Corporate Programs
Personal Wellness and Corporate Wellness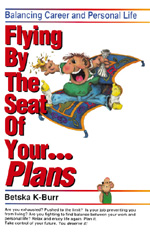 "How Well Am I? How Well is my Organization?

Many of us work too hard and play too little! Some of us eat poorly. Some of us are not in touch with our bodies.

Based on Betska's second book "Flying by the Seat of Your Plans - Balancing Career and Personal Life", this show-stopping program yields many benefits for balancing our lives.


In this Keynote, Betska provides concrete ideas and tools on how to:


Become a more confident and competent person

who knows how to find and maintain life balance.



Become more self focused

by creating a personal plan of action to ensure balance between career and personal life.


Take a peek

at the health level of our immune system

. Could it withstand a major pandemic? Discover ways to build our immune system using homeopathy, essential oils, Chinese herbs, meditation and so on. This info could save a life.



Increase productivity

through the elimination of energy stealers.


Do a quick survey to

determine the "wellness"

of your organization as a whole.



Reduce conflict and improve communication

by learning techniques such as "Open Hearted Listening".



Build stronger relationships

through "bridging".



Take time to pause, reflect and smell the "roses"

in your life and be grateful for them. Feel more peaceful inside.
NOTE:
Much material needs to be covered here; therefore, it is best presented in a 90 minute keynote. Some of the longer elements will be included in a handout with quick instructions from the podium.
"The choice is yours. You hold the tiller. You can steer the course you choose in the direction of where you want to be - today, tomorrow, or in a distant time to come."

- W. Clement Stone
"My best friend is the one who brings out the best in me."
- Henry Ford
TO BOOK YOUR DATES:
Email
Betska
or call +1 (250) 924-4545