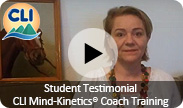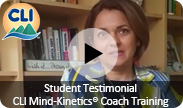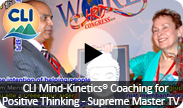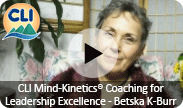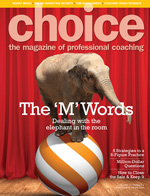 Executive, Business and Life Coach Training
15 Important Benefits for Your Coaching Success
Whole Brain, Whole Person, Whole Potential

Leadership, Executive & Life Coach Training
Coach Training Program Accreditations/Approvals



International Coach Federation

"... what is probably the most revolutionary and effective model of coaching to be developed in the last ten years - Betska K-Burr's Power Coaching® with Mind-Kinetics®."
+ Rey Carr,
Peer.ca
CEO of Peer Resources
Dear Valued Guest:
Welcome to the coach training section of our website. Because your clients (including employees) will expect you to deliver professional coaching skills,
you can expect us to train you to surpass your Client's expectations
with our award-winning PCMK™ methodologies.
At CLI's Power Coach
®
Training for Life Coaches and Business Coaches you study (and practice) the ethics, standards and core competencies as well as many Coaching methodologies. In addition you gain an understanding of cell biology, neuroscience and quantum physics (as they apply to human behaviour) to maximize your coaching skill set and, therefore, your Client's results.

"... I have found Power Coaching® to be a tremendous asset to our organization. It assists our partners and managers to discover and remove blocks, negative thinking ... resulting in an enhanced capacity for leadership... Power Coaching® with Mind Kinetics® works and it works consistently!."
+ Cathy McLellan, MA, CPC, Senior Advisor Org. Development, MNP
When Science and Spirit merge in the coaching process, miracles happen. We achieve corporate wellness. loving families and a healthier planet.
As a CLI Certified Power Coach
®
, (CPC), you will be able to facilitate your Life Coaching and Business Coaching clients to harness their own inner resources and develop the solutions that are best for them. You Life Coaching and Business Coaching clients will be able to shift their unconstructive habits as they remove the blocks that are preventing them from achieving their goals and overcoming challenges.

"... I'd love to take credit for all this success, but I know that it literally would not be within my grasp without the brilliance of Power Coaching® with Mind-Kinetics®, PCMK™."
+ Jessica Sedlock, CPC
2009 North American Biathlon Champion


"I had a great first session with a fellow and want to tell you yet again how much I appreciate working with the tools and methods provided by CLI. With Love and Appreciation"
+ Pauline Daniel, CPC, Coaching Connections, Nelson BC, Canada
CLI's Business and Life Coach Training and Certification Program is for:
Those who wish to have Coaching as their next vocation


CEO's, Presidents, HR Directors, Managers of people


Professional Speakers, Trainers & Consultants


Counselors & Therapists


Existing Buisness, Life, Career & Health Coaches who wish to advance their skill set with whole-brain coaching methodologies.
15 IMPORTANT BENEFITS
for new and experienced coaches when you study with CLI
CLI is a pioneer in the development of award-winning coaching methodologies. Since 1995 our intense research will show your Clients that PCMK™ is the fastest track to personal and corporate empowerment. Click here to view the awards we have been blessed to receive.


CLI offers you a one-stop training experience: Our Coach Training and Certification is unique in the industry because PCMK™ methodologies are universal and used for whole life coaching. They are researched and designed to be effective with executives, teams, couples, families and children. Your study of the interconnection between mind, body and spirit will produce unparalleled results for your Clients. And for this, you will be worth your weight in gold.


Pentalateral / Whole-Brain Coaching: PCMK™ can go far beyond straight logic coaching. The PCMK™ System assists your Clients in becoming whole brain thinkers (as encouraged by Stephen Covey) using their left and right hemispheres (IQ + EQ) and their conscious, subconscious and superconscious. Your Clients will learn how to 'think like an Einstein' and tap into their genius (image word streaming) for innovative solutions to problems, challenges and goals. No stone is left unturned. PCMK™, therefore, is an accelerated learning process.


Accredited/Approved Programs: CLI's 'Professional Certified Power Coach®' Program has earned ACSTH accreditation from the International Coach Federation .


Build a Boooooooming Business: CLI provides the business building support you need in order to grow your business. As part of your registration, you will automatically receive a copy of CLI's full service book "Build a Boooooooming Business". This book leads you to develop a superior Marketing and Business Plan. Business Mentors are also available to provide additional support in the development of this Plan.


Range of Methodologies for Beginner Coaches and Advanced Coach Training for Continuing Education Credits: The 'full session' methodologies, within the PCMK™ System, create a pool from which Beginner, Intermediate and Advanced Coaches will benefit. Coaches, already certified with a governing body and looking for additional training or Continuing Education Credits will be refreshed by the Mind-Kinetics 'ingredients' which form the uniqueness of the PCMK™ System.


Variety of Programs to Fit Your Budget and Achieve your Personal Vision: Students can choose a variety of paths towards their Business and Life Coach Training and Certification including:



Take an Introductory course - "Power Coach® Fundamentals" Program (28 hours)


Achieve the Practitioner Power Coach® (PPC) designation (45 hours)


Achieve the Associate Power Coach® (APC) designation (75 hours)


Achieve the Certified Power Coach® (CPC) designation (150 hours)


Achieve your Professional Certified Power Coach® (PCPC) designation (400+ hours)


Become a Certified Group Power Coach (14 hours)


Private Tutoring on Build a Boooooooming Business (15-45 hours)


Develop Sales Excellence Skills


Become a Trainer of CLI's Noble Life™ Series of Corporate Programs which have PCMK™ built into them


Become a Trainer of Personal Prosperity Programs (for couples and families)


Buy a Master License and open your own business as a PCMK™ Instructor, Instructor of CLI's Noble Life™ Series of Corporate Programs and the year long Noble Leadership in Action Program.



Earn Revenue Quickly: Experience a quick return on your investment! Within 20 hours of the start of your PCMK™ Coach training you will have 4 full session methodologies plus 6 PCMK™ Lasers at your fingertips ready for you to use with your first Clients.


Choose from On-Site or Distance Learning: Have fun and choose how you wish to learn! Choose face-to-face training, distance learning or a combination of both. On the sidebar click on "Course Start Dates at a Glance".


Active Research and Development Department: All of CLI's PCMK™ Business and Life Coach Training Programs are founded in the Science of Mind-Kinetics® which literally means "putting the whole brain into motion". CLI has researched and developed over 80 methodologies to help you achieve your goals and solve challenges by turning unconstructive behaviours into permanent positive ones. Yes, the results are permanent because of the engine of science embedded within the PCMK™ System. CLI's R & D department is very active. The benefit to you is that you will continually have the opportunity to advance your learning.


Coach in different languages: Currently, the Certified Power Coach® Program is available in both the English and French languages. The program is designed to be translated into other languages. This means that you can create the opportunity to coach in the language of your country.


Keep Track of your ROI: To expedite Client results, Power Coaches invite their Clients to use a Coaching Journal in which they track the results from their formal coaching sessions and their daily self-coaching. In this way, the Client is truly accountable for their success by recording their progress and self-coaching to remove their conscious and unconscious roadblocks to success on a daily basis.


Earn Money While You Sleep! Visit The CLI Store to view the variety of learning resources you can purchase at wholesale prices and sell at retail to add valuable profits to your bottom line. As Power Coaches you can buy learning resources such as Profiles, The Brain Walk® -Genius Edition, Noble Life™ Cardgames and Value-able Toolgames™ for Enlightened Leadership.


Deliver Workshops Immediately: Right from the very beginning, you can purchase the Facilitator's Kit for The Brain Walk® - Genius Edition and deliver workshops to all ages! Once again, this means more revenue and profits to your bottom line!


Member's Network: CLI provides you with a lifetime license to use the processes, methodologies and tools that are researched, developed and taught at CLI. Your license is based upon your level of training.

Your initial program registration includes additional benefits such as:



Access to the Member's Network Area (for networking, research, business building, audio links, downloads ...)


Photo Bio listing on CLI's 'Find a Coach' page (marketed by Google) (APC levels and above)


Access monthly teleclasses for business growth and coaching support


Purchase CLI Products at wholesale


Free entry to extra mentoring sessions (subject to your level of training)
CLI and the Power Coach Licensee Network of coaches from different countries are ready to support you in your journey.

We welcome your enquiries and will be delighted to provide you with additional information including details about CLI's PCMK Business and Life Coach Training programs and multiple possibilities for your Coach Training and Coaching Certification success with CLI .
PCMK™, The CLI logo, Power Coaching®, Power Coach®, The Brain Walk®, Mind-Kinetics®, Certified Power Coach®, Professional Power Coach® and Master Power Coach® are trademarks and registered trademarks of Coaching and Leadership International Inc. (CLI). Use of these trademarks is limited to the guidelines published for CLI trained Power Coaches.
Grants for college