The CLI Value of 'Service' – What is Service All about?
CLI Power Coaches and their clients use a deck of CLI Values Cards.  Each of these 76 cards has a different 'Value' printed on it such as "respect", "honesty" and "acceptance" and each has a different frequency.  Interesting isn't it?  One of the most wonderful CLI Values cards that you can draw out as you begin your day is "Service". What does it connote to you?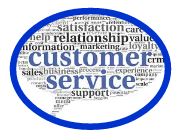 To an Executive or Life Coach, Service is All about the Client – how best to serve his/her client to achieve their desired outcomes.
To a CEO or Senior Manager, Service is All about the Employee – how to best serve their employees so that they can stretch and grow and be inspired to do their best work for the end-user customer.
To a Church or Temple Leader, Service is All about the Parishioners – how to help them open their hearts to truly believe in themselves and in each other in order to create a better world for future generations.
Betska, The Guru Coach™
Sign up for CLI QuickTip™ and Blog Updates at:
Coaching and Leadership International Inc.