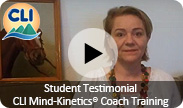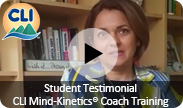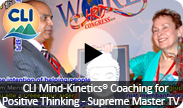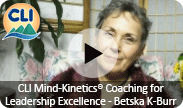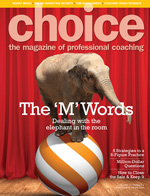 Betska K-Burr, Master Coach
Professional Speaker
Accredited Master Coach (IAPC&M)
Awarded 2019 and 2020 Top 100 Management Consultants Worldwide - CEO Today Magazine
Prolific Author of many books, manuals, articles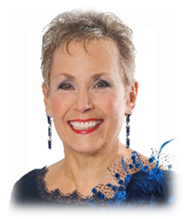 Accredited Master Coach (IAPC&M). 6,000+ Client coaching hours since 1995.


International Executive and Life Coach and confidante to individuals and groups in 50+ countries: CXO's, Senior Government officials, Ambassadors, Royalty, TV Stars, TV News Anchors, Star Athletes, Moms & Dads, Teens, Professionals, People like you and me...


Betska is Co-President at Coaching and Leadership International Inc. Having developed 80+ award-winning coaching methodologies which enrich a Leader's competencies and bring peace into their life, she leads the Instructor Team at the CLI school where Leaders learn a profound coaching skillset.


Betska is an industry pioneer in the development of Whole Brain Mind Coaching methods which generate high level ROI - a very rewarding return on investment.


Affectionately called The Guru Coach® by her students and clients, Betska is a Canadian best-selling author of many books including Creating Champions, Flying by the Seat of Your … Plans, Build a Boooooooming Business and The "God" in Coaching – The Key to a Happy Life.


As former International Head of Accreditation for a global governing body in the coaching industry, Betska led the team who assessed Coaches around the world on their coaching skills.


Business awards include: 2003 and 2007 Awards for Innovation, 2009 Lifetime Achievement Award, 2010 The Pride of HR Profession Award (Mumbai India), 2019 and 2020 The Top 100 Management Consultants in the World - CEO Today Magazine.


Vast business experience: Has held multiple positions including Senior Executive with International Companies such as Lanier and 3M and as a servant in the Canadian Foreign Service, holding three European posts.


In her spare time, Betska is a voracious reader, meditates for lengthy periods of time every day, loves to garden, takes pride in feeding her family healthy vegan food and enjoys hikes and yoga. Betska is a student and teacher of living true family values such as courage, devotion, faith, generosity and love.
"We all know that LOVE is the best medicine in the world.
I encourage all Doctors, parents, teachers, indeed everyone to learn Mind-Kinetics® to love themselves more and prevent disease, have healthier relationships, and wake up each morning with energy knowing that each of the 100 trillion cells in our body has a happy face on it! ."
~ Dr. Bogdana Macovei, M.D.