Success Stories
CLI Achievements & Awards Received
The Saanich Peninsula Chamber of Commerce
- 2009 EXCELLENCE AWARDS -
Lifetime Achievement Category



The Saanich Peninsula Chamber of Commerce
- 2007 EXCELLENCE AWARDS -
Innovation & Entrepreneurship Category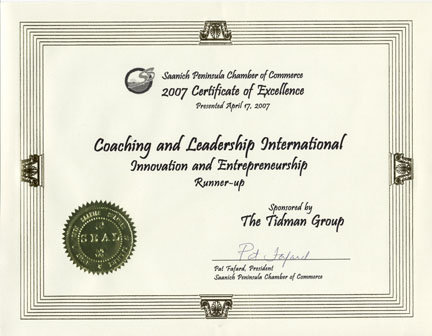 Victoria Ukrainian Commnity
- 2005 COMMUNITY SERVICE AWARDS -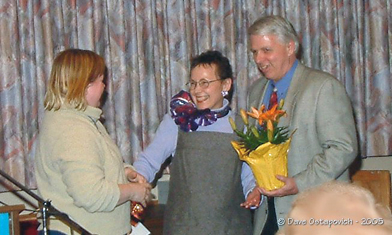 Marilyn Walsh, President of Veselka, presents the award to Betska K-Burr & John Burr.

The Greater Victoria Chamber of Commerce
- 2003 BUSINESS AWARDS -
Innovation Category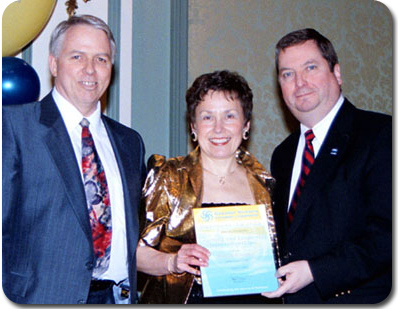 John Burr, Betska K-Burr and Craig Pinder, VP of External Relations for University of Victoria.
____________________________________________________________
The major reason for the nomination in this innovation category is that there doesn't appear to be a process or a set of thinking tools anywhere else in the world that can create lasting change as efficiently and effectively as the work of CLI.
In other words, CLI is a world leader in the creation of innovative thinking tools which transform organizations quickly, easily and profoundly.
When most people think of Innovation, they think of computer chips!
They think of high-tech products like computers, microwaves and going to the moon.
Rarely, do they think of high-tech tools for the organic computer otherwise known as the human brain.
Over the last 8 years, CLI has researched and developed over sixty high-tech tools for the human brain. These tools create personal mastery.
A sample tool, called
The Brain Walk®
, is fast becoming a daily inspirational tool, with permanent affects, for men, women and children everywhere."
_____________________________________________________________