Universal Law # 3: "The Law of Mastery of Self" – How to Live to our Highest Potential
This Law says, "As I Master my lower self, I become my higher self to access innovative solutions to challenges and goals."
Most of us continue to live for years in our 'lower self' by holding on to feelings of past guilt,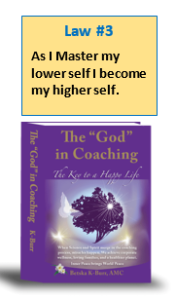 shame, negative beliefs and prejudices about ourselves and others. In 'higher self' we easily tap into our creativity, wisdom and intuition for instant solutions to challenges and goals. In which 'self' do you currently live?
What does it take to live in 'higher self'? PCMKTM coaching and
mentoring methodologies provide us with the masterful ability to find Root Cause memories which are keeping us in 'lower self'. For example, if you are lacking in confidence, you may remember that your Grade 3 Teacher kept telling you how dumb you were. Imagine holding this belief in your subconscious mind for decades!
Too crazy. Get rid of it! We CAN Master our 'lower self'. We CAN re-write our negative beliefs and experience joy in our hearts. You deserve it.
Read The "God" in Coaching – The Key to a Happy Life.
Betska, The Guru CoachTM
Sign up for CLI QuickTipsTM and Blog Updates at:
Coaching and Leadership International Inc