Universal Law #6: "The First Law of Increase" – Understanding why things multiply
This law says, "What I resist persists. My negative patterns repeat themselves. The seeds of gratitude, kindness, joy etc. will bring even more positives to me."
Some people wake up to their negative patterns quite easily. Not me!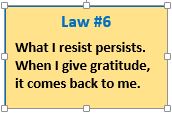 God had to hit me over the head with a whole tree! I was living a life of luxury – fancy cars, house, clothes. One day, all h_ _ _ broke loose! My body started to break down. The signs were there but I chose to ignore them.
I was resisting what was best for me. Fancy stuff doesn't bring one happiness. I thought it did. So why was I miserable? I had forgotten to nurture my spiritual self. It took a broken body to wake me up.
It healed as I reconnected with my Godself. Read how I did it in The "God" in Coaching – The Key to a Happy Life. Learn PCMK™ methodologies to get rid of your own R-E-S-I-S-T-A-N-C-E.
To whom can you show kindness today? It will come back to you.
Betska, The Guru Coach™
Sign up for CLI QuickTip™ and Blog Updates at:
Coaching and Leadership International Inc.